GOLD IN THE CROWN CRISIS: Technician Tore Lie monitors the machines at the new mini-factory in Høyanger. In collaboration with Jon Bolstad, they want to give people free disinfectant. Photo: Dan Bredesen
Of Tonje Noreng Trøen
Published: 21. March 2020, at 05:05 Last Updated: 21. March 2020, at 08:59
The Korona crisis has hit us and pharmacies are empty of antibac. The small company Anolytech Norway hopped around and made a mini factory in Høyanger. Now they want to deliver several thousand liters of disinfectant to the people.
– We are in a situation that is not anyone's fault. We have the equipment to make disinfectant and knowledge to produce this, and felt it was wrong not to make an attempt to contribute. We feel the responsibility and we try to do it as best we can, says Jon Bolstad from Førde.
It all started when there was no disinfectant in shops and pharmacies.
Bolstad is a board member of Anolytech Norge AS, a company that supplies machines that make disinfectant. The machines are used to make Anolyte PH, a disinfectant that is mainly used in agriculture and industry. Then it removes bacteria in drinking water and biofilm in the pipe system.
In Norway, Anolytec has been in active operation for one year. The company is also found in Sweden, and it was Anolytech in Sweden, which first mentioned the case on its own website.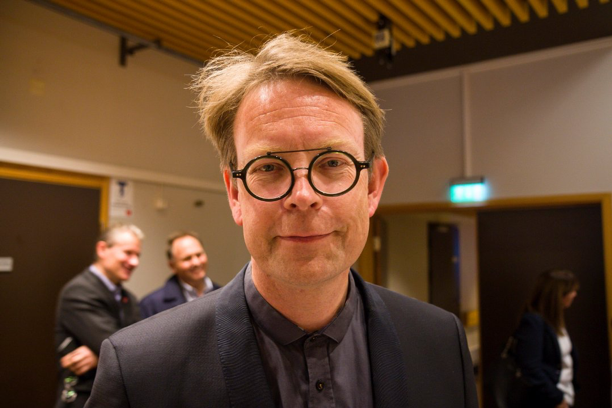 – RESPONSIBLE FOR NOT HELPING: Jon Bolstad is chairman of the board of Anolytech Norge AS. He came up with the idea of making the mini factory in Høyanger. Photo: Helge Johnsen (archive)
Made factory in Høyanger – in two days
When Bolstad discovered the lack of disinfectant, he turned around to help. He immediately called Høyanger Development. He knew that there was a vacant factory there, which he asked to use to make a mini-factory.
With a clear signal, the company put together a production plant that produces raw materials for the disinfectant. On Monday this week, the plant was in trial operation. Technician Tore Lie is now present at the factory and monitors the production of the product.
– Technician Tore Lie has already produced several thousand liters, says Bolstad.
He says they have the capacity to produce about 5,000 liters of disinfectant every day, and have the equipment to double this quickly if necessary. What is produced now is intended for disinfection of surfaces.
Bolstad says it is also desirable to be able to use it as a hand disinfectant. Even though they are now working to be able to deliver the disinfectant, he will come up with an encouragement:
– It is important that people follow the government's advice on good hand hygiene when using water and soap. There is little point in disinfecting a surface that is not clean. Disinfection is not in place for washing.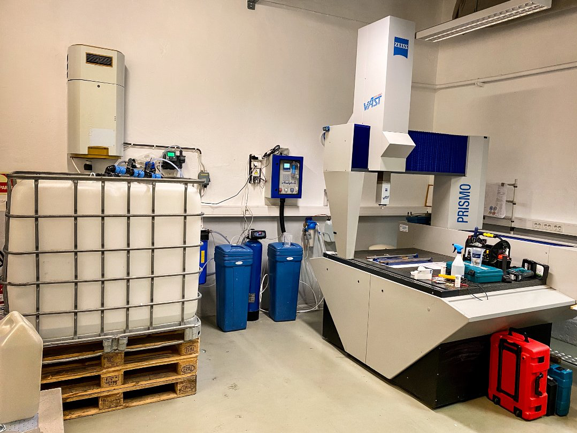 FULL PRODUCTION: Already on Monday this week, test operation was underway at the mini factory in Høyanger. Photo: Dan Bredesen
Has medium but lacks enough packaging
Bolstad himself says that it would feel irresponsible not to offer to make the means in the situation we are in. There is currently a shortage of packaging to be able to deliver the product to a large number of users. Therefore, work is in full swing to get enough of it; labeling, documentation and good information on the product.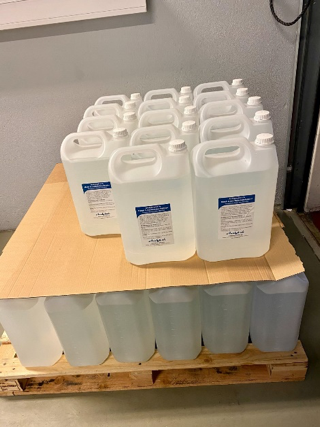 NEED JUGS: Bolstad has not been able to get enough packaging to deliver. Photo: Jon Bolstad
– We want to offer this as quickly as possible to consumers in the area, and then for free when we deliver.
When asked why they want to release the drug for free, Bolstad answers this:
– It is the situation that demands it. It must not be the case that those who have finances should take precedence here. Viruses and bacteria separate
not between people and we will not do that either.
He explains that the focus has been on getting the product produced now, and then it must be taken into use. He has not thought about whether it can affect the whole of Norway. It is a disinfectant of great value Anolytec will release for free.
– It is clear that we are talking about a lot of money, but when the Prime Minister says we will have a charity event, it means that we will stand up. Now we have to cover a need in the local population, says Bolstad.
Completely natural and environmentally friendly
Bolstad explains that the product is used in medical contexts all over the world, and that it is well documented. The product is approved in the EU's biocidal regulation. Nevertheless, they must now work to obtain documentation that it is approved for use in Norway.
The active substance in the product is Hypochlorous Acid. The remedy is a copy of the substance the body's own immune system makes. When hypochlorous acid hits a microorganism, it is neutralized within seconds.
The way this is done makes it not harmful to humans or the environment.
– The good thing is that this is also environmental technology and in that sense a bonus for everyone. The area of use is enormous. Work will be in full swing to get this clear in any case.
You can find the article here:
https://www.firda.no/laga-fabrikk-i-hoyanger-pa-to-dagar-vil-gjerne-gje-bort-gratis-desinfeksjonsmiddel-til-dei-som-treng-det/s/5-15-970463