Free Hand Disinfection and Surface Disinfection for all residents, companies and businesses in Ystad Municipality.
During Friday and Saturday, Anolytech will set up a station on Industrigatan 7 in Ystad Municipality. Here, Ystad's residents, companies and businesses can come and pick up disinfectants for free that can be used as hand disinfection and surface disinfection. We supply a ready-mixed use solution of disinfectant based on hypochlorous acid without harmful chemicals, dyes and alcohol.
There is a shortage of hand alcohol and hand disinfection around the country. But there are other remedies that can be used for disinfection. Anolytech uses water and common salt to make a solution that kills 99.9 percent of bacteria, fungal spores and viruses – including corona viruses. In the crisis that prevails, we at Anolytech want to help in the way we can.
Bring your own fake shoes or cans.
Those who want to come and get disinfectants are welcome to do this below Friday 10-17 and Saturday 10-14 . Those who come and have to pick up disinfectant need to bring their own bottle or can to fill.
Avoid crowds
Due to the risk of infection, we do not want crowds to be created at or outside the station on Industrigatan 7. We ask everyone to take responsibility and not get there if you have any symptoms or feel sick. We will let in small groups at a time to pick up disinfection, also try to keep your distance from each other.
The disinfection will be enough for everyone who needs it, so we ask you to stay calm and wait for your turn.
Collaboration with several Ystad companies
We at Anolytech are happy to be able to help and have noticed a great need for disinfectants for both small and large companies, residents and businesses. This has been possible due to a good initiative and collaboration with several Ystad Companies. The effort has been possible due to cooperation with ENRAX Property which sets up and sponsors with premises on Industrigatan, Ystad pressure helps with information material, Radio Active disseminates the information to the residents of Ystad Municipality and Cleversign who have help with underlying work and publications.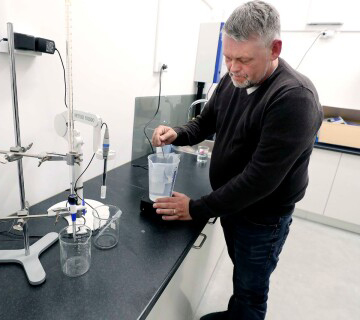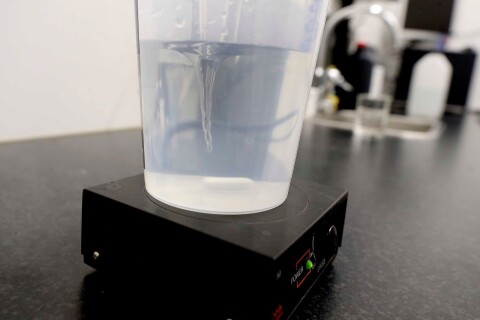 More information about the disinfection from Anolytech
By mixing water and salt and adding energy, hypochlorous acid is formed. It is the same disinfectant that the body itself uses. It is a completely harmless product and a couple of hundred times more effective at killing bacteria than, for example, chlorite solutions. It is also environmentally friendly.
The concentrate looks like water, with a slight odor of chlorine, but smells almost nothing like ready-mixed solution.
Information Surface disinfection
Use: Apply to desired surface and leave on for 30 seconds, then wipe.
Content: Water, hypochlorous acid 5%.
Storage: Store in a dark and cool place.
Duration: 6 months from opened bottle.
Information Hand disinfection
Dosage: Add 100 ml of gel (about 4 tablespoons) to 1 liter of water.
Use: Apply and leave on for 30 seconds.
Content: Water, hypochlorous acid 5%, gel.
Storage: Store in a dark and cool place.
Duration: 6 months from opened bottle.
Depending on interest and needs, a new decision will be made on whether the station will also be open next week. We will return with information about this. We ask you to be forgiving that our exchange is heavily loaded and that we respond to emails and comments as soon as possible. The latest information is always on our Facebook page – go in and follow!
https://www.facebook.com/Anolytech/